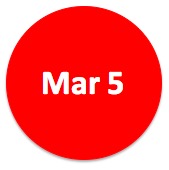 Despite quite a few people who dismissed the whole backwater-houseboat experience as too touristy, too expensive, etc. we decided to give it a try and in my book the houseboat experience was well worth it.
We rented a houseboat (which came with a staff of three for the 3 of us – captain, cook and waiter) which left Alappuzha – a city about an hours drive south of here – by 11:30 am and putters around the endless channels and canals of the surrounding area at a nice moderate speed leaving enough time to watch life by the river in a leisurely way and even take non-blurry pictures. I was a little apprehensive – I am not the sit-around kind of gal – and being on a houseboat seemed the definition of sitting around. And then there was the Max-factor. How much fun is there to be had on a boat for a little boy?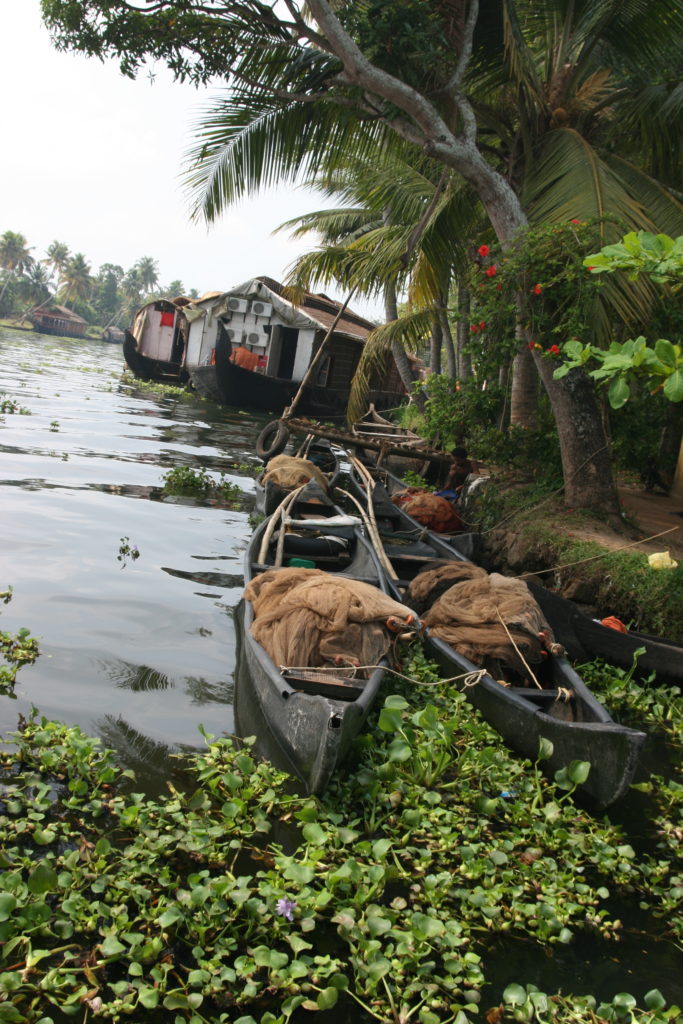 After a day of houseboating it turns out I seem to be the sit-around kind of gal after all if the sitting is done in motion and is occasionally interrupted by walks (which it was). The little engineer was happy too, he had plenty of interesting things to see and a captain who needed help steering the boat.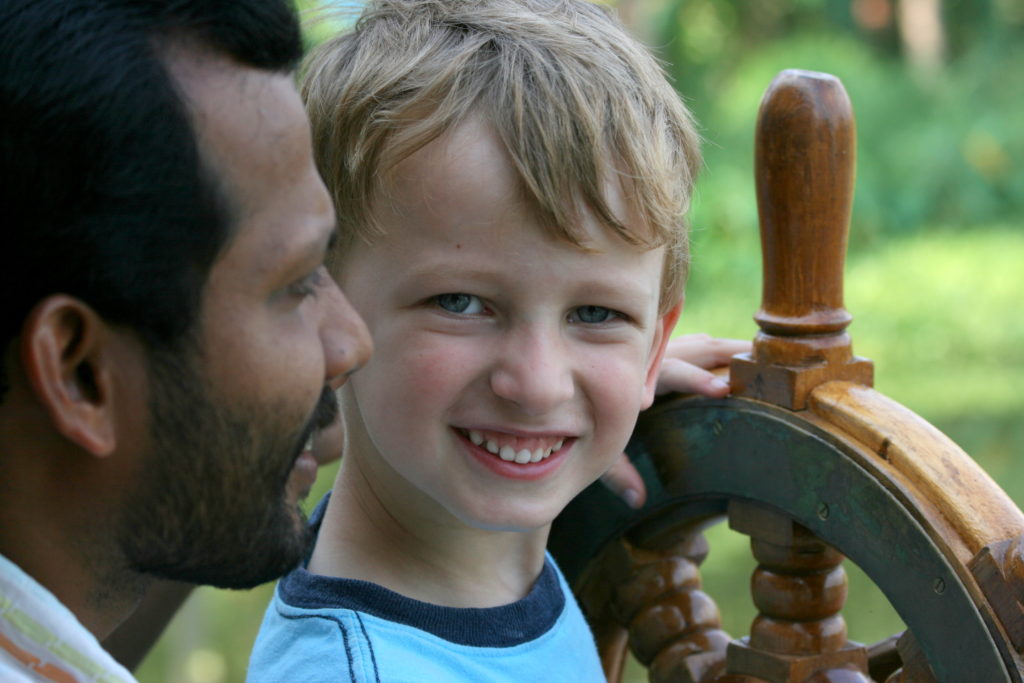 The boat was a two-story affair, well 1.5 stories – on the upper deck Uli and I could only walk bent forwards but it had comfy deck chairs and a few things to keep Max interested (plus a baby crib which was used for the teddybear to hold his nap). Downstairs was a dinning/sitting area right behind the captains stool the two small rooms with even smaller bathrooms and then the kitchen. Very comfortable, indeed, compared to many of the small poor houses we puttered by.
It isn't without voyeuristic pleasure that one idles by people's houses and gardens and watches them – for a few seconds – in their daily routines. Everything seems to revolve around the canals: people bath, wash their hair and brush their teeth there, they wash their laundry, pots and pans, irrigate their rice paddies, water their gardens, fish, drive or row around on them and kids play in them. There was a good number of houseboats out but on the vast network of channels but not enough to make them a pest. Kids would still excitedly wave at us most everywhere we went and the scenery wasn't clogged by them or by the tourist (mainly elderly Brits and French) they unload.
After puttering around a bit and taking a short walk (mainly used by Max to throw stones into the water, still a favorite of his) we had an excellent, freshly prepared lunch that was way too opulent for a normal day but I decided that this wasn't a normal day and that nothing would be gained by offending the cook by not eating properly. I also decided that I wasn't going to think about the fact that the plates where washed with river water and the rice probably cooked with it – in fact I prefer not to think about it even now.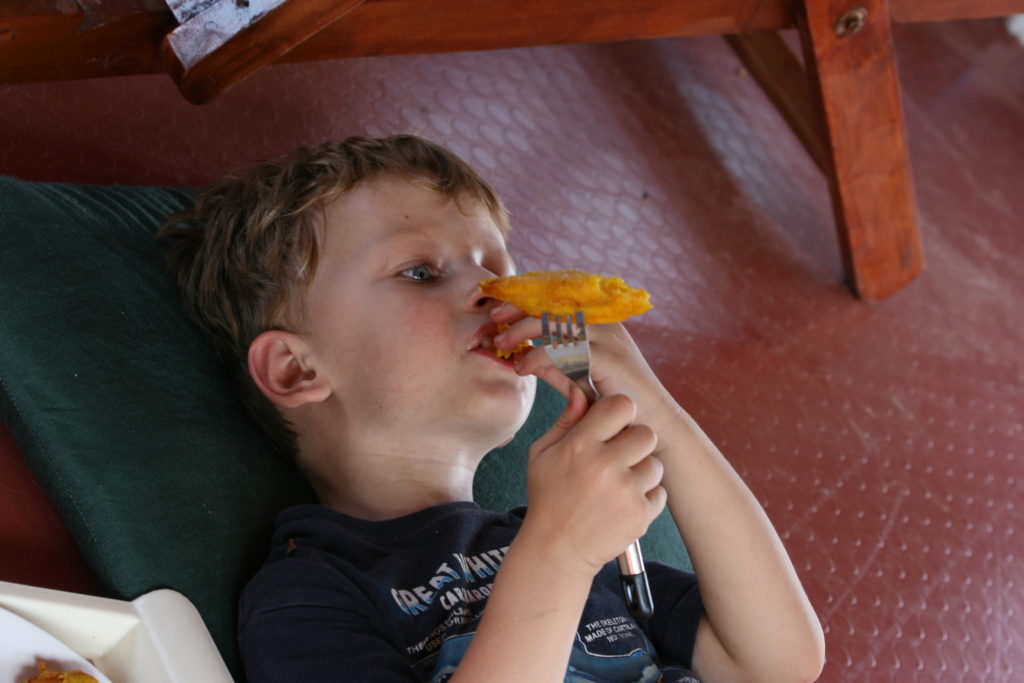 After lunch there was more puttering around, Uli was reading, Max was busying himself with the generator, the accelerator, the big broom and other such things occasionally yelling things like "Mama look, I have a very dangerous knife, that can be used to cut ants!" while I was sitting upfront by the captain with my camera clutched in my sweaty palms. I don't think I put the camera down for more than 10 minutes at a time during the day with the exception of the lunch break. There was too many intriguing things to see and to many pictures to be taken!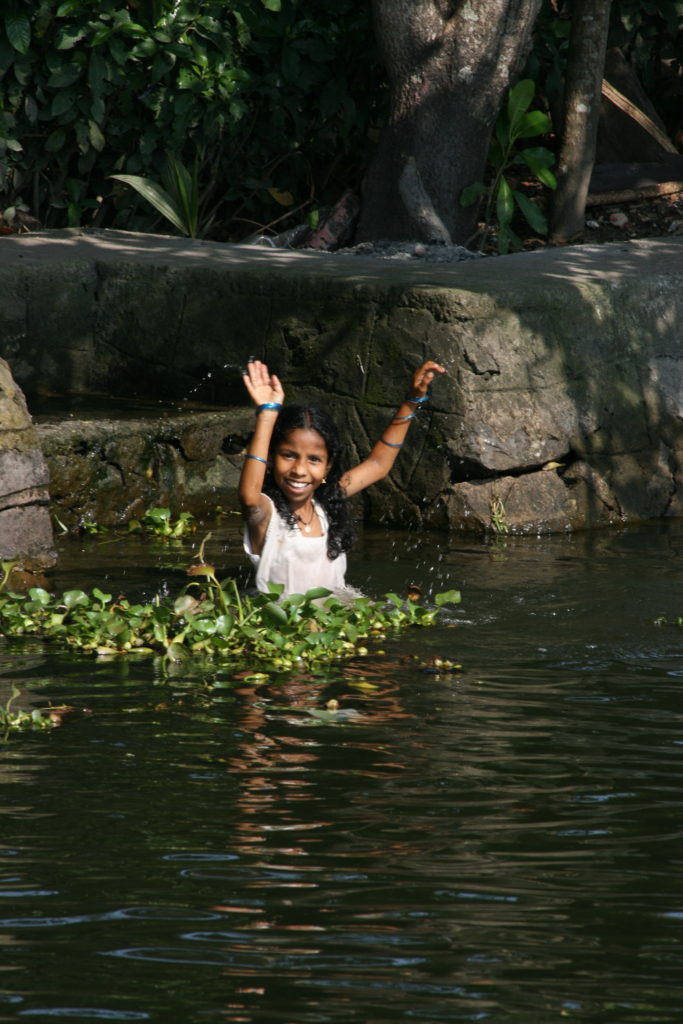 The afternoon just flew by – kind of unexpected for me as beforehand I had visions of boredom, of drumming my fingers on surfaces and rummaging around the boat desperate to find something to read a former guest had left – and ending up with a French version of Cosmopolitan – which is just about the worst of all worlds when it comes to good reads. Instead I took another 300 pictures between end of Chai break and the visit of the "famous church" in one of the small villages we passed by. The churches are really something here, they are Christian (mainly some old-fashioned orthodox catholic version) alright but of a distinct Indian flavor and architecture, decorated with colorful umbrellas and big silver tinsel. A strict "shoes off" policy applies and Mary is dressed in sari-like robes. Max got a little confused about the whole church/temple business and wasn't quite prepared to accept what he saw as a proper "iglesia" (in which he knows to behave, as grandma told him: "be quiet because people pray"). In fact he thought it was a temple and asked whether this was one of those where only Indians could go in. The charm of this little utterance is lost in translation as he didn't use the word "Inder" (Indians from India) but the word "Indianer" which is the German term for Native Americans.
Anyway, we did the usual tour through the one-100-percent-handmade-souvenir-only-obtainable-here routine (I bought a wooden ladle, can't ever say "no") before settling in on the boat for another hour or so before the houseboat settled for the night. We had another opulent meal and a couple of cool beers – I am starting to behave like the German I am. It is still hard for me to have so much staff – I am simply not used to it and probably would never quite be. My impulse is to jump up after dinner and take out the dishes, wipe the table, make my own bed, carry my own luggage, switch on the light myself when I enter a room, and pour my own beer (actually here in our apartment we drink it straight from the bottle – the way it is supposed to be). I am not saying it isn't pleasant to have things done for me, but it doesn't feel quite right to have other people do basically everything while I sit around and take pictures.
The night was hot and blissfully mosquito-free and over when somebody in the nearby village started playing music at 6:15 am. The sun was rising anyway and more pictures needed to be taken. By 9:30 we've had breakfast – American/European with eggs and after we were stuffed he brought "Kerala breakfast" looking very happy and expecting us to eat again – and had puttered back to Alappuzha where they were getting ready for the next tourists looking for a houseboat adventure.
To round out the day in Ernakulam (where the apartment is) we visited a temple where a big celebration in honor of Shiva was going on and took a rickshaw back. The guy was driving very fast and "sporty" and Max's comment was "He is driving super-fast. That's what I like."
Good thing we did the backwater tour before our little guy was old enough to demand a speedboat.