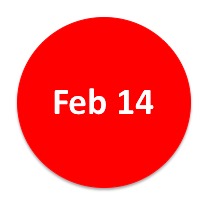 This is going to be short! Montezuma's revenge (Wiki: Montezuma's Revenge is the colloquial term for any cases of traveler's diarrhea or other sicknesses contracted by tourists visiting Mexico) has finally caught up with me. Interestingly on a day where I didn't eat any outside food, toast and ham for breakfast, toast and ham for lunch (too busy souvenir shopping to eat real food). Everybody else ate everything I ate as well but they are doing fine (thankfully). I spend the morning hanging around the house and bed and everybody who knows me knows that that this kind of behaviour on a nice sunny – and the penultimate – day here is Merida is highly unusual for me. Everything being fine I would have pretty much died of boredom by 10:00 am unless we left the house and did "something". Anyway, I'll spare you the details.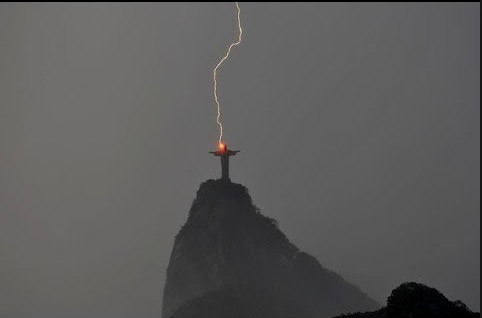 For those of you who have followed my somewhat mocking posts about big Jesus in Rio being named one of the 7 New Wonders of the world: here is a picture my friend Pamela found and sent me with the following comment: Here's what Mother Nature thinks of making Rio Jesus one of the 7 Wonders of the World… The picture is not super-clear as I was lazy and just copied it out of her email – in any event, it shows a lightning bolt hitting big Jesus. Nothing happend to the New Wonder – divine intervention or dumb luck?
I realized today that Valentine's Day is a quintessential Mexican holidays. Romance was in the air all day in the form of large and extra-large red and pink heart-shaped ballons that said typical Mexican things such as "You are Special", "Sweetheart", "My love". Even the kids had a fiesta at school, little presents were given and Max received a very nice, crisp white traditional Yucatecan shirt which I was eager to have him try on right away. He, however, categoriacally declared that he will not wear it, neither today nor on any other day because "I just don't want to". Gone are the days where I could dress him in basically anything as long as it was reasonably comfortable and he'd be off – now we are having ourselves a dress code – really great timing in starting to nitpick wardrobe when living out of a suitcase (or two) and going through two outfits a day anyway.
Zocalo (we made it there with me always keeping an eye out for the next "bano publico" sign) was full of couples strolling, vendors selling heart-shaped ballons saying typically Mexican things and people patting Max's head saying things like "que gaupo" and "ayyy, curioso". I am afraid he is getting a bit too used to all the attention, he kind of walks around Zocalo as if he owned the place, summons other kids to come play with him with a hearty "Ven aca!" (come here!) and gets away with murder or at least a lot of nonsense like thowing his ballon-ball at people then making big round eyes and smiling and everybody thinks it's just so cute (other than his parents who hate to see their rebellious toddler be rewarded for misbehaving). I started reading my Kerala travel guide today and from what I read there the people in Kerala absolutely adore kids and they generally get a lot of attention especially if they are "fair-haired". Oh boy!
We have a few challenging days ahead of us. Tomorrow is our last day here and I need to make the usual preparations for long distance travel: toys, fully-charged DVD player, books, maps, food, drink and a change of clothing for Max (oh, and the Benadryl), a tiny paperback and a little toothbrush for me (well, okay, the camera bag), pack three suitcases and a duffle and go the bed to get up bright and early at 4:30 am the next day to catch the 6:30 am to Mexico City and then a flight to JFK and then a flight to Vienna where we will arrive Sunday some time. We stay for the night at a friend's house and then fly to Mumbai on Monday, arrive there late in the day, stay overnight and fly to Kochin on Tuesday where we will arrive in the afternoon. Given that schedule I might take a blogging break for a bit but will definitely be back once I checked out the Internet Cafe situation in Kochin (no access for the first few days until we move into our "real" apartment).