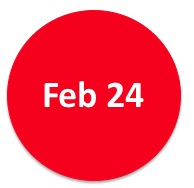 Last night we went into Munnar and did the tree hill tour of the places of worship – or almost. All in all it was a couple of days full of religious experiences. We didn't quite yake it all the way up to the mosque as Max was distracted by a family with a yard full of goats some of them baby goats who were doing crazy jumps high up in the air. Max looked at the goats and the family looked at Max so everybody had something to talk about later.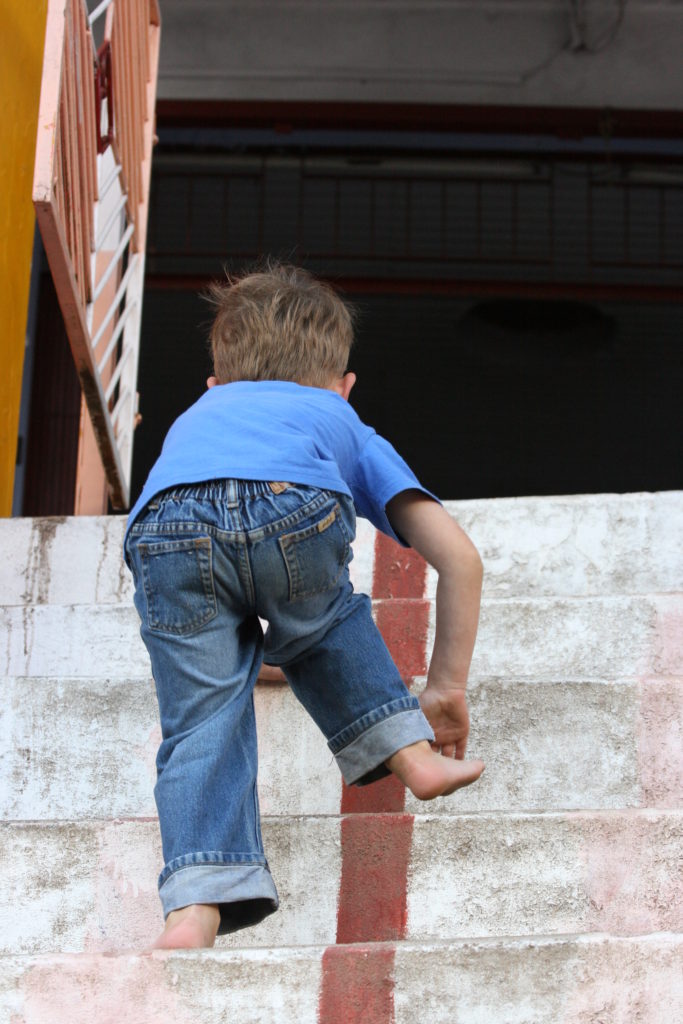 Afterwards we went to the temple, took our shoes off and climbed the steep stairs up – it reminded Max a lot of climbing Mayan pyramids with the added advantage that there was an "iglesia" of sorts on the top. After looking at a few shrines and paying our respect to Shiva we went down and for good measure climbed up the third hill to visit the catholic church. Up there was a bearded, long-haired sort of yoga guru looking guy with lots of bead bracelets whom I secretly snapped a quick picture of. We walked around the church once and when we got back to the front there was my presumed yoga guru snapping away with his digital camera. Such is modern day India!
Today by mere chance we happened upon on Hindu religious ceremony. We were on our way – with a rickshaw that said "Jesus never fails" – to the elephants in Madupetty, a hamlet about 12 km from Munnar, hitting on all the usual tourist spots on the way (Indian tourists, that is, there are many of them here, mainly from Chennai) when we noticed a small gathering of people obviously wearing their Sunday best. We drove by but after about 1 mile decided that we better check it out now or we might miss a great opportunity to experience true rural India. So we asked our rickshaw driver whether he could take us back.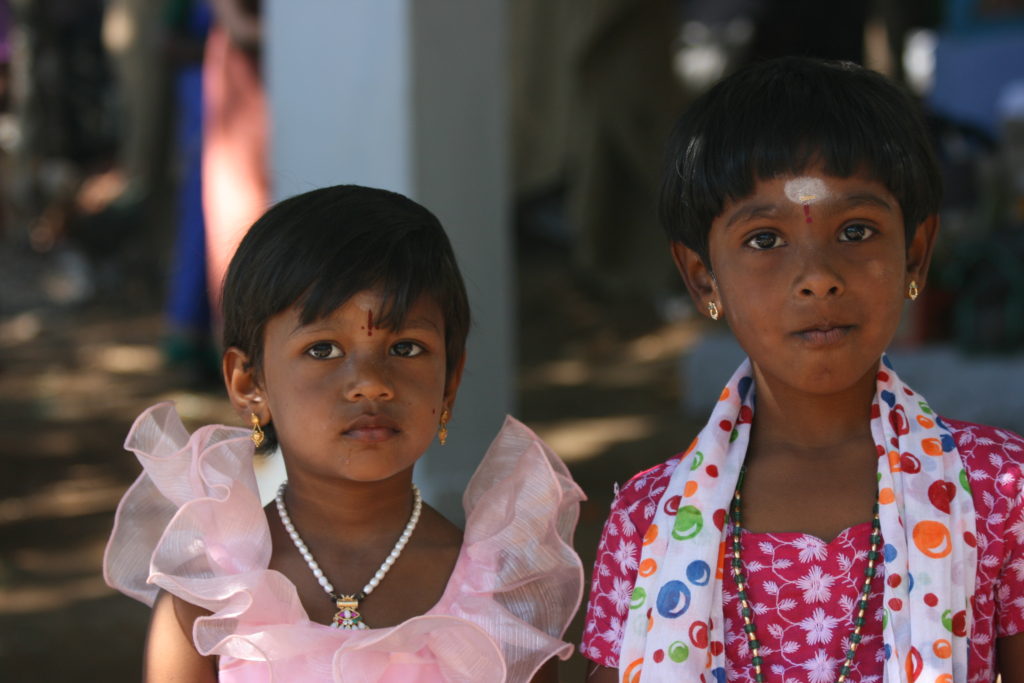 We approached very tentatively, trying not to offend anything or anybody but were welcomed very warmly. We were asked to take our shoes off and proceeded a few meters up a grassy slope to a small temple . Everybody was busy making preparations, small holes were dug, stones were arranged, pots and food were gathered, fires light , and a guy in loin cloth and undershirt was busy washing off whatever god was inside the shrine. We all, but especially Max, got our usual share of curious looks and were quickly surrounded. As seems to be the case wherever one goes, it's always the kids who approach first, ask questions, shake hands and want to show us things. Next comes the village crazy guy with all the other grown-ups standing around watching.
I was very reluctant at first to take out my camera but eventually did and pointing at it asked – sort of – whether it would be okay to take pictures. I got a sure-why-not kind of shrug and started taking pictures of the kids. A little group of cheeky ones was first I snapped and then showed them the picture on the display. It took but 5 minutes for me to be mobbed by the little ones "Tina picture" , "Tina, this one", "Tina, me!" "One more", they brought their brothers and sisters, friends, neighbors, classmates for me to be photographed, alone, in pairs, triplets, and groups.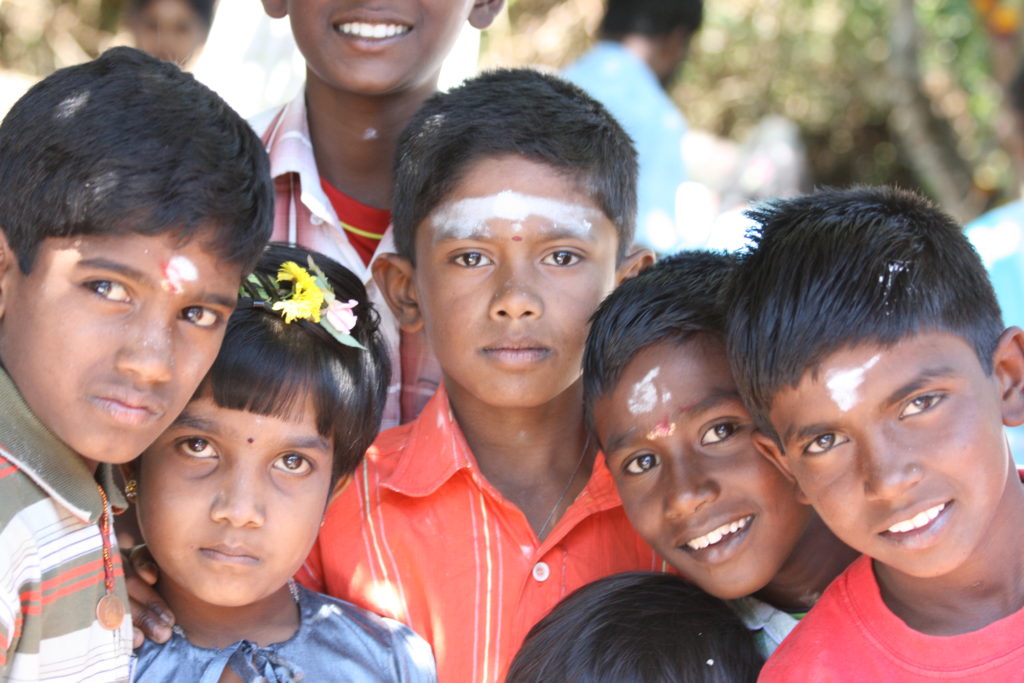 I tried to take a few pictures of the preparations for the festival but more often than not some little face popped up in front of my lens at the last second. Meanwhile more fires were light and the grown-ups started to cook rice with sugar, which was meant, as we found out, as food for both the people and the gods. Smoke was rising as the women put more wood on the fires and banana leaves with bananas, coconuts and incents were set out as sacrifices. Eventually the kids started bringing the mothers and grandmothers to be photographed, alone, with them, with each other …..
As Uli eventually found out we had stumbled on a once a year celebration of some Hindu God. Max, who first had wanted to leave right away and was hiding behind Uli had found a group of youngsters to entertain him, was patting goats and pretended to stir a big pot of water – which was set on a fire in preparation for the later cooking of the goats. About 500 pictures and probably two hours later (who'd keep track of time) we took our leave.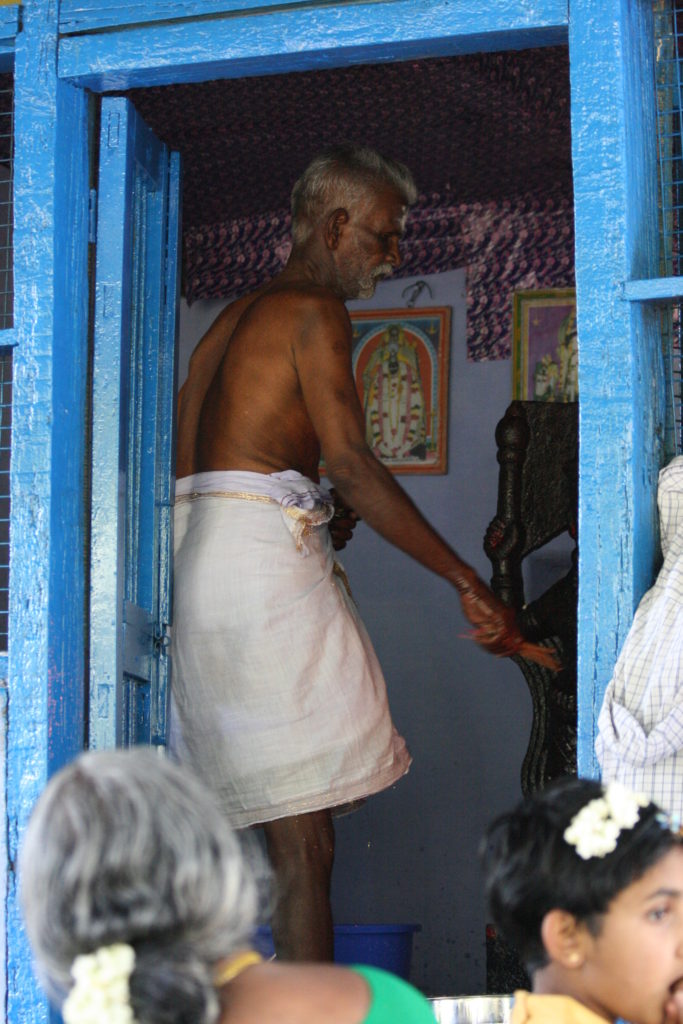 We were invited to stay and eat some of the sweet rice but Max was already getting tired and somehow it was clear that we wouldn't get away anymore once we sat down and started eating. The kids hardly wanted to let me go. They found some more of their buddies whom I hadn't taken pictures of but eventually we made it into the rickshaw with the crowd of the most excited ones standing by the road waving Good-bye. It was great fun and very interesting and I think everybody got something out of it. I got an interesting experience, the pictures and something to write about, Max could play with fire, Uli talk to the one guy who spoke decent English, the kids had their pictures taken and might also have a thing or two to report tomorrow in school. Hopefully, if I can swing it, I can get a bunch of the pictures printed somewhere in Kochin and send them to the rickshaw driver (a neighbor of one of the participants) for distribution to the kids. As always we found people extremely warm, friendly and welcoming. Just imagine a bunch of foreigners who do not share or even understand the religion and don't speak a word of the local language crash a religious ceremony in Germany, or the US for that matter – probably wouldn't be invited to stay and have lunch ….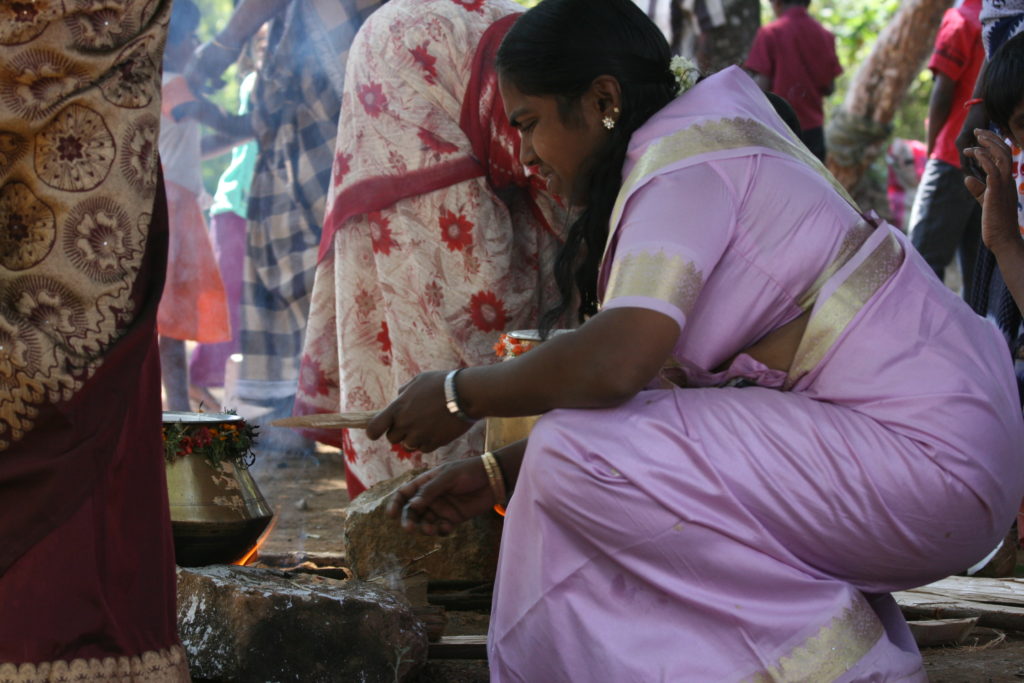 A word or two about the local language, Malayalam. I had the best of intentions to learn to say simple things like hello, thanks, please ,sorry and "How much does this cost?" in Malayalam but it turns out that most of these words far exceed the length of what my somewhat dyslexic mind can possibly remember "namaskaram" for hello would still be okay, but "ennodu kshamikkoo" for "sorry" is a bit much, let alone "suprabhaatham"for Good morning. I have given up on Malayalam before I ever started. Fortunately most people speak a bit of English, especially the kids, it seems and so getting around has not been a problem so far.
The rest it told quickly, we went to Madupetty crossed the famous dam with bunch of Indian tourists, bought homemade chocolate like everybody else, rode an elephant, and visited "Echo Point" just like every Indian tourist is supposed to do. We were the only non-Indian tourist in this area which is obviously used to and set up for tourist, just not Westerners and so the sight of the three of us on elephant back resulted in many cheers, waves, and whistling along the way.
I am getting more and more fond of this type of travel, sure we are missing the big sights, the Taj Mahal and the impressive buildings of Rajasthan, the Red Fort, etc but we are seeing a different type of India, one that the "all of India in 10 days" tourist normally doesn't get to experience. Instead of pictures of the Taj Mahal I'll bring home pictures of delighted kids – and that's just fine with me.
Here are some more pictures, I will add to this gallery as I go so check back.